Our food & drinks reflect the changing seasons in Brookings.  We are constantly evolving and adding new dishes so please ask your server for the specials!  We're looking forward to seeing you.  In addition to the beer and wine listed in our menu we've got a full bar ready to make your cocktails!
HAPPY HOUR
 Every Day!
3 p.m. - 6 p.m.
TACO TUESDAY
 Every Tuesday!
Meal deal 3 p.m. - close
WEEKEND BRUNCH 
Saturday:  9 am - 2 pm
Sunday:  9 am - 2 pm
Fish & Chips* - $18

Three pieces of whole fillet Alaskan cod, hand dipped in our signature beer batter. Served with house potato wedges, citrus slaw, and tartar sauce.
Bangers & Mash - $16
A traditional British & Irish dish. Seared Taylor's English sausage served with garlic mashed potatoes, house made onion gravy & a side of peas.
3 Pacific Cod Tacos* - $15

Lightly breaded & fried, topped with fresh cabbage, pico de gallo & house made cayenne-lime ranch.
3 Pork Tacos - $15

Smokey pulled pork topped with our original recipe verde sauce & pico de gallo.
3 Corned Beef Tacos - $13

Dressed with jalapeno slaw & pico de gallo.
3 Veggie Tacos - $13

Made with fried potatoes, covered with cheese, lettuce, & pico de gallo.
3 Little Pigs - $15

Three brioche slider buns stuffed with Hawaiian style pulled pork & house citrus slaw.
Sandwiches come with your choice of side:
Wedge cut fries, small salad, citrus coleslaw or jalapeño slaw.
Upgrade your side for $4: Savage fries, cup O chowder, cup o stew, cup o cottage pie, or mashed potatoes & gravy
Smoked Turkey Club
Mesquite smoked turkey piled high with thick-cut, peppered bacon, lettuce, tomato & red onion. Served on grilled sourdough with a shmear of pesto mayo.
Half $10.00
Full $15.00
Ham Haus - $12

Cheddar jack and American cheese blend melted in a sacred union with ham, bacon, and tomato slices. On grilled sourdough of course.
Add avocado $3.00
Add jalapenos $1.00
Classic Reuben

House-cured corned beef, swiss, sauerkraut & handcrafted Louie dressing. Grilled to melty perfection on rye.
Half $11.00
Full $16.00
Paddy Melt* - $15

Toasted, marbled rye packed with a hand pressed, 1/3 pound Angus beef patty*, grilled onions, & melted Swiss.
The Fat Fillie* - $16
Thin sliced steak grilled with onions and bell peppers, smothered with Monterey Jack cheese on a house baked sub roll.
Add jalapenos $1.00
Added grilled mushrooms $1.00
The Irish Lord - $18
A fully loaded monster sandwich. Ham, roast beef, salami, lettuce, tomato, pepperoncini, sweet onion on a house-baked sub roll. Toasted & drizzled with Italian dressing.
Pub Burger - $13
Hand-pressed, 1/3 pound Angus beef patty* served on a toasted ciabatta bun with romaine lettuce, tomato, red onion, pickles, and house Louie sauce.
Sub Chicken Breast $15.00
Sub Beyond Burger $15.00
Add Cheese $2.00 
American Cheddar, Swiss, Pepper-Jack, Monterey-Jack, Bleu Cheese Crumbles
Add Ons:
Grilled Mushrooms $1.00
Grilled Onions $1.00
Jalapenos $1.00
Bacon $3.00
Avocado $3.00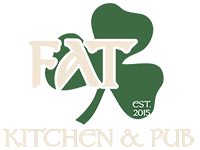 18% gratuity will be added to parties of 8 or more. Please call in advance for accommodation of large parties
*Consuming raw or undercooked meats, poultry, seafood, shellfish or eggs can increase your risk of food borne illness.
Savage Fries  $12
Our potato wedges topped with shredded cheese, melt-in-your-mouth corned beef & smothered with our classic Louie sauce.
Calamari* $14
Tubes & tentacles freshly dredged in a house blend of flour and Cajun seasoning and fried per order. Served with lemon, house made cocktail & citrus remoulade sauce.
Hot Wings  $14
One pound of meaty party wings, fried then tossed in your choice of Buffalo, BBQ, or house Lord sauce. Served with carrots & celery and blue cheese or ranch.
Fried Cheese Curds $13
Local Rumiano cheese curds, Beer battered and fried to golden perfection. Your choice of cheddar, habanero, or mixed. Served with ranch & sweet chili sauce.
Shrimp Cocktail $15
Your choice of fresh, local bay shrimp or fried popcorn shrimp. Served with chopped celery, lemon & house made cocktail sauce.
Feta Bruschetta $11
Garlic naan bread garnished with tomato, onion, olive, basil, feta cheese & a balsamic reduction!
Spinach-Artichoke Dip $13
Our original recipe is deliciously creamy and cheesy. Served hot with house-made tortilla chips.
Sub naan bread $15.00

Bread Bowl $16.00
The Spread $14
A charcuterie board of naan bread, house made hummus, grapes, olives, salami, Pepper Jack cheese and seasonal pickled goodies.
Beverages
Soft Drinks (Pepsi Products) $3.50
Pepsi, Diet Pepsi, Dr. Pepper, Iced Tea, Lemonade, Mug Root Beer, Mountain Dew, or Sierra Mist
Shirley Temple or Roy Rogers $4.50
Roy Rogers $4.50
Hot Cocoa $5.00
Coffee / Tea $3.00
Happy Mountain Kombucha $6.00
Jalapeno Steamer Clams* - $16
One pound manila clams, steamed with garlic & fresh jalapenos in a buttery white wine broth. Served with garlic toast.
Clam Chowder
Our Award-winning New England style clam chowder is warming, thick & creamy. Loaded with clams, bacon, celery, onions and potatoes.
Cup $7.00
Bowl with garlic toast $14.00
Bread Bowl $17.00
Irish Stew
Hearty stew of beef pot roast, carrots, celery & onions slow braised in thick, Guinness broth.
Cup $7.00
Bowl with garlic toast $14.00
Bread Bowl $17.00
Cottage Pie
Savory ground beef and vegetables cooked in a thick Guinness gravy. Topped with creamy garlic mashed potatoes.
Cup $8.00
Bread Bowl $14.00
Honey Mustard Chicken Salad
Romaine lettuce with avocado, bacon, tomato & cucumber, topped with chicken. House made honey mustard dressing on the side.
Grilled* $15 / Crispy $16
Grilled Salmon Caesar* $19
A fresh tossed romaine Caesar topped with a grilled fillet of wild caught Alaskan salmon, garlic croutons & shredded parmesan.
Sub Chicken $16.00
Blackened Upgrade + $2.00
Shrimp Louie Salad $18
A heaping portion of local bay shrimp atop a large garden salad. Served with a avocado, a wedge of lemon & house Louie dressing on the side.
Irish Farm Salad $16
Turkey, Ham, Cheddar & Swiss cheese, tomato, cucumber, olives, red onion, carrot & a boiled egg on top of a bed of crisp romaine. Choice of dressing on the side.
Dinner Salad*
Romaine lettuce with tomato, cucumber, olives, red onion, carrot, croutons & a boiled egg. Dressing on the side.
Large $8.00
Small $5.00
Side O Slaw* $4
Choice of citrus or jalapeno coleslaw. Crisp and made fresh per order.
Garlic Toast
Half Order $3.00
Full Order $5.00
Cheesy Bread Upgrade (Full Only) $8.00
Our desserts are freshly made by local bakery, Sweet N' Sassy!
Bailey's Blissful Cheesecake

- 9
Dark cookie crust, layers of chocolate and Irish Cream, topped with chocolate ganache.  
The Drunken Mousse (21 & over)

- 9
A decadent chocolate mousse. Bailey's Irish Cream. 
Save a Pupcake*

- 7

A rich, Guinness dark chocolate cupcake with cream cheese frosting.
*You can feel especially good about this treat, part of the proceeds go to the South Coast Humane Society!
Carrot Cupcakes 7.5

A delicious moist spice cake topped with cream cheese frosting.
(18% gratuity added to parties of 8 or more. Please call in advance for accommodation of large parties.)
Guinness Stout   7
---
Goose Island IPA   5
---
Rotating Cider   7
---
Shock Top Belgian White   5
---
Rotating Handle ......  Price Varies
Harp Premium Lager    4
---
Stella Artois   5
---
Coors Light   4
---
Corona   4
---
Kaliber (NA)   4
---
Guinness Blonde Lager   4
---
Eel River Blonde   4
---
Bud & Bud Light   4
---
Michelob Ultra   4
---
Tieton Hard Cider  4
---
Non-Alcoholic Beer  4
Black Box Chardonnay   4
---
Bota Box Merlot   4
Bota Box Old Vine Zin   $
---
Bota Box Cabernet   4
---
Tott's Brut Champagne  6
Fat Mary

- 8

Irish Whiskey, house made Bloody Mix, a float of
Guinness. Garnished with bacon salt & olives.  
Fat Irish Coffee

- 8

Sugar melted into a hot cup of joe and Irish
Whiskey, topped with house made whipped cream
and a shamrock of choco-spice sprinkle. 
Sergeant Pepper

- 8

Crater Lake pepper vodka, fresh squeezed lime and
vanilla simple syrup.
Dublin Donkey - 8

A feistier, Irish Whiskey version of the classic
Moscow Mule.
Amaretto Sour - 9

Luxuriously sweet, addictively sour. Disaronno and
fresh squeezed lemon juice, on the rocks.
Cucumber-Jalapeno Margarita - 8

Fresh muddled jalapeño and cucumber give this
margarita a refreshing and spicy kick!
Gold Fashioned - 9

Jameson, vanilla simple syrup, bitters and soda.
Garnished with orange and cherry.
Squeeze The Day - 10

Gin, lemon cello, freshly squeezed lemon and simple
syrup, celebrated with a champagne float.
Made Marion - 11

Wild Roots Marionberry vodka, shaken with ice,
fresh squeezed lemon and simple syrup. Strained
into a sugar-rimmed martini glass.
Cucumber Gin Fizz - 9

Fresh and light! Muddled cucumber and lime,
shaken on ice with top shelf gin then topped with
half soda water, half sierra mist.
Irish Car Bomb - 10

A staple. A shot of Irish Whiskey and Irish Cream
dropped into a half pint of Guinness. Chug!
Pickle Back

Pickle Back
Your shot of choice, with a pickle juice chaser.