Our food & drinks reflect the changing seasons in Brookings.  We are constantly evolving and adding new dishes so please ask your server for the specials!  We're looking forward to seeing you.  In addition to the beer and wine listed in our menu we've got a full bar ready to make your cocktails!
HAPPY HOUR
 Every Day!
3 p.m. - 6 p.m.
TACO TUESDAY
 Every Tuesday!
Meal deal 3 p.m. - close
WEEKEND BRUNCH 
Saturday:  9 am - Noon
Sunday:  9 am - 1:30 pm
Fish & Chips*
Whole filet Alaskan Cod hand dipped in our signature Guinness beer batter. Served with house potato wedges & citrus slaw.
Half Order (2 pc.) $11.00
Full (4 pc.) $15.00
Ispini Penne Pasta - $12
Penne pasta tossed in a reduction of garlic butter & white wine with sautéed kielbasa, roasted red peppers, sweet onion, mushrooms, tomato & parmesan.
Sub Chicken - $14.00 
Upgrade to Salmon with jalapeño - $18.00 
Cottage Pie 
A hot casserole dish. Savory ground beef and vegetable mulligan topped with creamy mashed potatoes.
Cup $7.00
Bowl $13.00
Pasta Parmesano -$16
A creamy parmesan penne alfredo with grilled chicken, onions, mushrooms & bell peppers
Taco Plate
3 Pacific cod* tacos topped with fresh cabbage, pico de gallo & cayenne-lime ranch. $12.00
3 Corned beef tacos dressed with house jalapeño slaw & pico de gallo. $12.00
3 Veggie tacos made with potatoes, covered with cheese, lettuce & pico de gallo. $12.00
Bangers & Mash -$13
A traditional British and Irish dish. Seared Taylor's English sausage served with house made mashed potatoes, onion gravy & a side of peas.
Sandwiches come with your choice of side:
Wedge cut fries, green salad, citrus coleslaw or jalapeño slaw.
Upgrade to Savage style fries ($3) or a Cup-O-Chowder ($4)
Smoked Turkey Club
Mesquite smoked turkey piled high with thick-cut, peppered bacon, lettuce, tomato & red onion. Served on First Rise Bakery's rosemary sourdough with a shmear of pesto mayo.
Half $8.00
Full $12.00
Classic Reuben
Absolute perfection: house-cured corned beef, Swiss, sauerkraut, & handcrafted Louie dressing on toasted rosemary rye from First Rise Baking Company.
Half $9.00
Full $15.00
The Fat Fillie - $15
Thin sliced marinated steak, grilled onions and bell peppers, smothered with Monterey- Jack cheese ona half house-baked sub roll.
The Irish Lord - $15
A fully loaded monster sandwich. Ham, roast beef, salami, lettuce, tomato, pepperoncini, sweet onion on a house-baked sub roll. Toasted & drizzled with Italian dressing.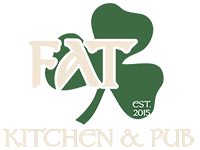 18% gratuity will be added to parties of 8 or more. Please call in advance for accommodation of large parties
Build-A-Burger
Build your own burger! Served open-faced on a ciabatta bun with your choice of side.
Pick Your Protein:
1/3 lb. hand-pressed Angus Beef patty* $10.00
Chicken breast* $11.00
Beyond Burger $11.00
Topping Choices:
Romaine lettuce, shredded iceberg lettuce, tomato, red onion, pickles, jalapeños, pepperoncini, dill relish, citrus coleslaw or jalapeño coleslaw.
Make It Saucy:
Ketchup, mustard, Dijon, Louie, BBQ, mayonnaise, pesto mayo, citrus remoulade, tarter, spicy buffalo, tangy Lord, bleu cheese dressing.
Add-ons:
Grilled mushrooms $1 / Grilled onions $1 / Thick-cut, peppered bacon $2 / Avocado $3 American cheese $2 / Swiss $2 / Cheddar $2 / Monterey-jack $2 / Pepper jack $2 / Bleu Cheese $3
*Consuming raw or undercooked meats, poultry, seafood, shellfish or eggs can increase your risk of food borne illness.
Calamari Tubes & Tentacles* $13
Lightly dredged in flour & Cajun seasonings, fried to order. Served with lemon, cocktail sauce & citrus remoulade.
Jalapeño Steamer Clams*  $15
One pound of manila clams, steamed with fresh jalapeños & garlic in a white wine and butter broth. Served with garlic toast.
Hot Wings  $12
One pound of meaty drummettes baked & fried, then tossed in your choice of BBQ, tangy Lord or spicy buffalo sauce.
Savage Fries  $9
Our potato wedges topped with shredded cheese, melt-in-your-mouth corned beef, smothered with our classic Louie sauce.
Feta Bruschetta $10
Garlic pita bread garnished with tomato, onion, olive, basil & feta cheese. Drizzled with balsamic reduction. Light, fresh & delightful!
Shepard Ships $10
Potato boats, twice baked and fully loaded with cottage pie and mashed potatoes. Topped with melted cheese.
Fried Cheese Curds $12
Local cheese curds from Rumiano Cheese Company. Beer battered and fried to golden perfection. Your choice of cheddar, habanero, or mixed, served with ranch & sweet chili sauce.
Spinach-Artichoke Dip
A house-made hot, melty cheese dip with spinach and artichoke hearts. Served with tortilla chips.
$12.00
Bread Bowl $15.00
Beverages
Bottomless Soda (Pepsi Products) $2.00
Shirley Temple or Roy Rogers $3.00
Hot Cocoa $3.00
Coffee / Tea $2.00
Strawberry Lemonade (limited availability) $3.00
Happy Mountain Kombucha $5.00
Irish Stew
Hearty stew of beef pot roast, carrots, celery & onions slow braised in thick, Guinness broth.
Cup $7.00
Bowl with garlic toast $14.00
Bread Bowl $17.00
Clam Chowder
Our Award-winning New England style clam chowder is warming, thick & creamy. Loaded with clams, bacon, celery, onions and potatoes.
Cup $7.00
Bowl with garlic toast $14.00
Bread Bowl $17.00
Honey Mustard Chicken Salad
Romaine lettuce with avocado, bacon, tomato & cucumber, topped with chicken. House made honey mustard on the side.
Grilled $14 / Crispy $15
Grilled Salmon Caesar* $17.5
A fresh tossed romaine Caesar topped with a grilled fillet of wild caught Alaskan salmon, garlic croutons & shredded parmesan.
Sub Chicken $14.00
Shrimp Louie Salad* $16.50
A heaping portion of local bay shrimp atop a large garden salad. Served with a lemon wedge, avocado & house Louie dressing on the side.
Irish Farm Salad* $13
Turkey, Ham, Cheddar & Swiss cheese, tomato, olives, red onion, carrot, cucumber & a boiled egg heaped on top of a bed of crisp romaine. Your choice of dressing on the side.
Dinner Salad*
Romaine lettuce with tomato, cucumber, carrot, a boiled egg, black olives, red onion & croutons. Dressing on the side.
Large $8.00
Small $5.00
Side O Slaw* $3.5
Turkey, Ham, Cheddar & Swiss cheese, tomato, olives, red onion, carrot, cucumber & a boiled egg heaped on top of a bed of crisp romaine. Your choice of dressing on the side.
Garlic Toast
Half Order $3.00
Full Order $5.00
Our desserts are freshly made by local bakery, Sweet N' Sassy!
Bailey's Blissful Cheesecake

- 9
Dark cookie crust, layers of chocolate and Irish Cream, topped with chocolate ganache.  
The Drunken Mousse (21 & over)

- 9
A decadent chocolate mousse. Bailey's Irish Cream. 
Save a Pupcake*

- 7

A rich, Guinness dark chocolate cupcake with cream cheese frosting.
*You can feel especially good about this treat, part of the proceeds go to the South Coast Humane Society!
Scones (Limited Availability) 4
Fresh baked! We like to change up the flavors, ask your server what our flavor of the week is!
(18% gratuity added to parties of 8 or more. Please call in advance for accommodation of large parties.)
Guinness Stout   7
---
Goose Island IPA   5
---
Rotating Cider   7
---
Shock Top Belgian White   5
---
Rotating Handle ......  Price Varies
Harp Premium Lager    4
---
Stella Artois   5
---
Coors Light   4
---
Corona   4
---
Kaliber (NA)   4
---
Guinness Blonde Lager   4
---
Eel River Blonde   4
---
Bud & Bud Light   4
---
Michelob Ultra   4
---
Tieton Hard Cider  4
---
Non-Alcoholic Beer  4
Black Box Chardonnay   4
---
Bota Box Merlot   4
Bota Box Old Vine Zin   $
---
Bota Box Cabernet   4
---
Tott's Brut Champagne  6